A Bible Study for Anxious Times: "I Am the Good Shepherd"
by Rev. Lee Johnson

april 26, 2020
READY
: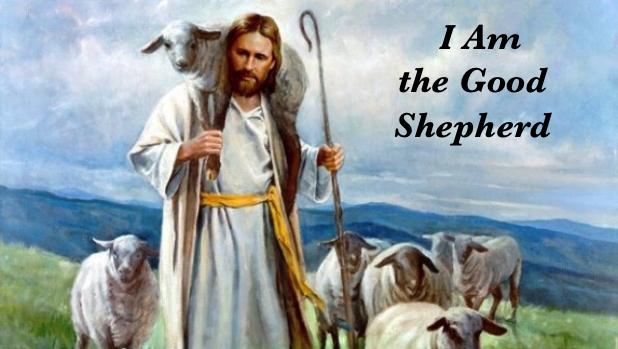 Some worshipping traditions celebrate "Good Shepherd" Sunday on the Third Sunday of Easter - that's this weekend. The Sunday coincides with the reading of John 10:11-18, in which Jesus further discloses his nature and call: "I am the Good Shepherd." His disclosure in John 10 is one of seven "I am" revelations scattered throughout the Gospel of John, beginning with "I am the bread of life" in John 6:55 and concluding with "I am the vine" in John 15:1. Each disclosure further reveals the connection God (in Jesus) seeks to have with God's creation.
SET:
So why a Sunday set apart for the Good Shepherd? Why not an "I am the Gate Sunday," or "I am the Light of the Word Sunday," or even, since this is a Sunday following Easter, an "I am the Resurrection and the Life Sunday?" What is significant, or meaningful, about the metaphor of "shepherd" that some in the Christian church set it apart? I've spent time looking for an answer, thinking this day might have a historical significance. That an answer is not readily offered up invites us to use our Gospel Imagination, which is generally a good thing!
GO:
The portrayal of God as shepherd is found in the Old and New Testament. Those who read John's disclosure most likely recalled Psalm 23: "The Lord is my shepherd, you are with me, your rod and staff comfort me." And, now in John, Jesus claims the title of shepherd - further disclosing the nature of his goodness: "I know my own. I lay down my life for my sheep." There is nothing, it seems, this Good Shepherd will not do to aid the flock. The well-known imagery invites you into a deeper reflection of what this promise means for your own life, which is not exempt from valleys. Could it be the shepherd comes to walk with you in the valley that you may have life beyond the valley? (Use your Gospel Imagination. It, too, is a gift from God.)
STUDY:
Read Psalm 23.
Read the six other "I am" disclosures from the Gospel of John:
Bread (6:35); Light (8:12); Gate (10:9);
Resurrection and Life (11:25); Way, Truth, and Life (14:6); Vine (15:1).
Read John 10:11-18.

What significance do the other six disclosures have for you?
Why this metaphor of shepherd now?
How does it further punctuate the proclamation of Easter?
The earth is walking through a valley - much of it filled with death.
What does your life look like on the other side of the valley?
Do you return to life as before?
Or, is your life lived differently?
In what ways does this Gospel narrative of shepherd guide you through the valley?
Beginning Saturday, April 25 at 5:00 pm

Three times on Sunday: "Walk with me now, Good Shepherd."