All Saints Sunday: A Bible Study for Asbury's Worship
(October 31 & November 1)

by Rev. Lee Johnson

october 31, 2020
READY
: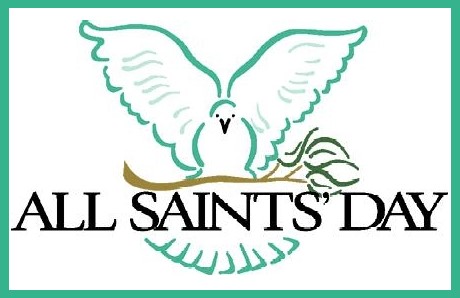 Saint? Or, no Saint? I guess it depends on how you understand the word. Some understand the word to mean: "exceptionally good of holy heroic virtue," marked by the characteristics of "prudence, temperance, fortitude, and justice." Or, more simply put, "faith, hope, and charity." My mother used to say, "I'm no saint, but I am your mother." Did that make her a Saint? Imagine being my mother and raising someone like me! Or, no Saint? Should the above definition serve as the sole judge, the list of Saints is most likely short and narrow. Few of us fulfill the criteria in consistent and exceptional ways. Yet, each year the Christian Church, around the world, rolls out All Saints Sunday in celebratory fashion - bells are rung, candles lit, songs sung, and a meal is shared. What's all this fuss about Saints – especially if the definition is so narrow, meaning few of us have ever known one? What words would you use to describe a Saint?
SET:
John Wesley, Methodism's founder, is thought to have written the denomination's Articles of Religion, 25 articles of beliefs, first adopted in 1784, and largely unchanged since 1808. Check out Article XIV. There, Wesley calls the invocation, or veneration of Saints, a "fond" thing, "vainly invented" but ungrounded in scripture. That's pretty strong language, perhaps reflective of the heightened tension existing then between the Roman Catholic Church and the "new" protestant tradition. Yet, here we are today – invoking, venerating, and celebrating Saints. Why, even Wesley himself, once wrote in his journal, "How superstitious are they who unwillingly give God solemn thanks for the lives and deaths of God's saints!" Sure sounds like John Wesley wanted to venerate a Saint or two, maybe his own mother. Who have been some Saints in your life? On this All Saint's Sunday, name a Saint for whom you willingly give God thanks.
GO:
Years ago, a mentor pastor friend helped me better "understand" the significance of this day. A Saint, he taught me, is anyone who has clearly revealed the love of God. No longer was my list narrow, nor short. For, in consistent and exceptional ways, God has worked unceasingly to reveal God's love to me. From a childhood babysitter who taught me how to sing "Silent Night," to the crusty, old high school track coach who really cared more about me than my half-mile time, from a seminary professor who convinced me nothing separates me from God's love, to a Sunday School Class of older adults who taught themselves how to use Zoom, God has surrounded me with a "cloud of witnesses," all invoking the love of God into my life. They are worthy of my veneration. And, God has been doing this just about forever. Why, in our scripture reading today from Numbers, of all places, God surrounds Moses with a Cloud of Witnesses to help him accomplish what God wants done. It's a revelation of how God's love works in our lives, through others, whom this day we name as Saints. And, you can be a Saint, too. To whom have you most recently revealed the love of God?
READ:
Numbers 11:10-18.
WATCH:

Asbury's Weekend Worship: https://www.visitasbury.org/worship/
Beginning Saturday, October 31 at 5:00 pm

"For All the Saints" at https://www.youtube.com/watch?v=Rgwq7f2FpNk

"Help me, God, to reveal your love to others."