Presence: A Bible Study for Asbury's Worship




(August 22)



by Rev. Lee Johnson

august 22, 2021
READY
: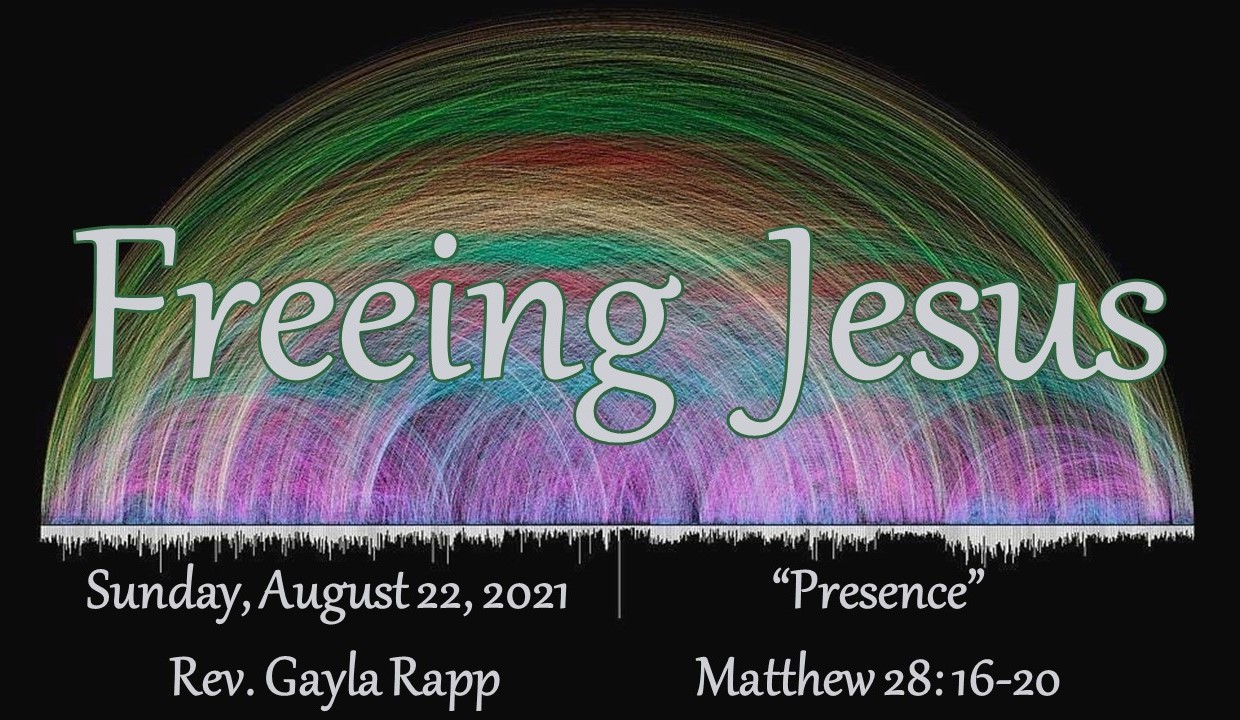 1 John 4.7-12 reflects upon the connection between God and love. "Let us love one another," says 1 John 4.7, "because love is from God." "To love," says 1 John, "is to know God, for God is love." The section concludes with a reminder: "No one has ever seen God. If we love one another, God lives in us, and his love is perfected in us." How close is God's presence to us? Well, if you follow the logic of 1 John 4.7-12, God is pretty close, like right there within us each time we love like God loves. 1 John 4 seems to say our actions of love can become the living presence of God in this world. Such an understanding of God's presence is in keeping with the tradition of Christian doctrine which explains God's presence to be both transcendent, beyond and out there, and immanent, close by and within. However, in her book Freeing Jesus, Diana Butler Bass says the "institutional church," out of a need for structure and order, prefers a transcendent God, one who is at safe distance from the world. The idea God is present within each human being through love can disrupt the world's order. I mean really, each person? How is God present in your life? Are you more apt to sense God's presence in the beauty of nature (transcendent), or in your heart (immanence)?
SET:
Of course, Christians believe Jesus Christ to have taken on human form as the living, embodied presence of God's love. The Christian church, says Butler Bass, asserts Jesus's presence is "a great mystery, as intimate as our inner awareness and as far-flung as the stars." In the New Testament, Paul writes to "reveal" this "mystery" to his readers. The revelation of mystery becomes the lens through which Paul encounters the presence of Jesus. Yet, to no surprise, this mystery does not stand apart from love. "If I have prophetic powers, and understand all mysteries… but do not have love, I gain nothing," Paul writes in 1 Corinthians 13.2. When it comes to the presence of Christ, mystery and love are connected. Later in 1 Corinthians 13, Paul admits "we see in a mirror, dimly," meaning we can never fully understand the presence of Christ, even though "it" fully understands us. Back to mystery. Searching for the presence of Christ in your life today? Start with mystery and love. Our Communion Liturgy contains the words, "As we proclaim the mystery of our Christian faith: Christ has died, Christ has risen, Christ has come again." We then partake of the living presence of Christ's love in bread and juice. Okay, so how do you understand the mystery of Christ's presence in your life?

GO:
"Listen," writes Paul in 1 Corinthians 15, "I will explain a mystery. We will not die but we will be changed." Many times, I have read this at graveside services. Each time, I am reminded of an inner desire to more fully pursue and know this mystery. Therein, for me, lies the paradox - I believe Christ is present in my heart of love, yet the mystery remains. In their work The Mystery of God: Theology for Knowing the Unknowable, Steven Boyer and Christopher Hall write, "Theology is not simply a set of truths to believe; it is a path to walk, or a living vision to pursue," even if much of the vision is a mystery. So where to begin when seeking the presence of Jesus in your life? Start with love, look for those moments that provide a daily opportunity for you to display the love of God to others. That's the path to walk, the vision to pursue. And, it's just the place where Jesus will be present. How do you connect Jesus with mystery and love? In what ways this week do you anticipate God creating opportunities for you to love and so make Christ present, both in your life and in the life of others?

READ:
1 John 4.7-12 and 1 Corinthians 13

WATCH:

Asbury's Weekend Worship: https://www.visitasbury.org/worship/
Beginning Sunday, August 22 at 11 a.m. for Live Stream or 5 p.m. for recording.
Jesus, through love, make your presence known to me today.