Epiphany: A Bible Study to Begin 2021
(January 2 & 3)

by Rev. Lee Johnson

january 2, 2021
READY
: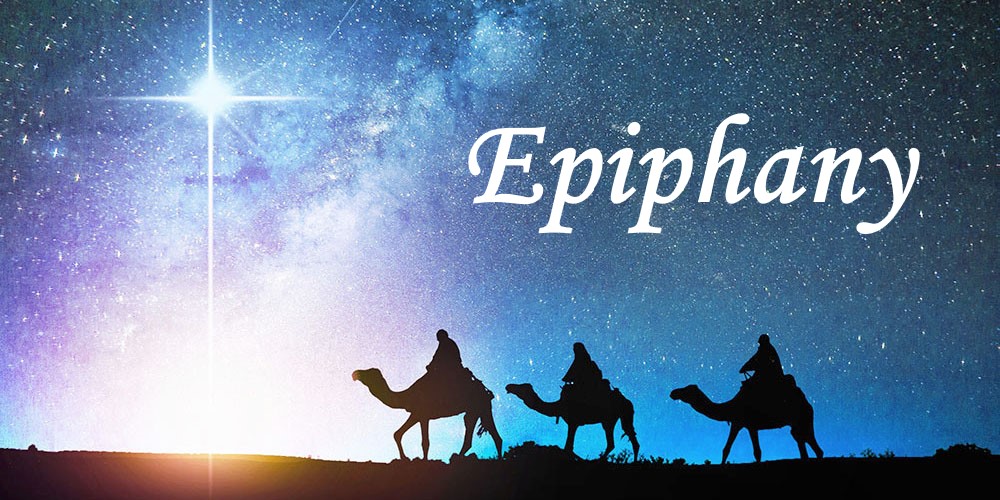 Every so often I hear someone say: "I've had an epiphany." In the dictionary, epiphany is used as a noun to mean "an illuminating realization or discovery." Synonyms include: insight, sign, revelation, breakthrough, eye opener, surprise. Life can be full of epiphanies, and yes, some catch us by surprise. The relevancy of the word has deeper roots, though, especially this time of year when the Gospel of Matthew records the "manifestation of Christ to the Gentiles as represented by the Magi" (see Matthew 2.2-12). The noun epiphany is used to describe this event. Imagine the
surprise
of the wise men upon
discovering
God's
revelation
took the form of a baby. What an
eye opener
, what a sign, to the faithful seeking
insight
into a relationship with God. Biblically, this moment of
Epiphany
takes place 12 days following Christmas. Apparently, that's how long it takes to travel by foot to the Christ event. That means this coming Wednesday, January 6, is the
Day of Epiphany.
What surprise might the day bring for you?

SET:
Actually, the Day of Epiphany extends into a season. United Methodists celebrate Epiphany through February 16, the day before Ash Wednesday. Some traditions end the season sooner. Maybe it takes longer for United Methodists to more fully discover the relevancy of God's birth into the world. I remember, while in seminary, a professor's demonstration of Epiphany made sense to me. It went like this: take your left hand (or right, depending on the hand of your preference), slap your forehead, and say, "Now I get it," now I understand the meaning of what God's birth as Jesus means to the world. Do we? It's a good thing Epiphany comes along each year and lasts, at least for United Methodists, until the middle of February, sometimes longer. I suspect it takes time, as least 12 days at the minimum, to have an Epiphany and grasp what has just taken place. Read the story of Epiphany from Matthew 2.1-12. What revelation, even insight, might the Magi had upon discovering God had taken the form of a baby? Now, (lightly) slap your forehead and say, "Now I get it." What do you get?
GO:
In 1775, John Wesley, Methodism's founder, introduced a Covenant Service as an important part of spiritual life in the Methodist tradition. The service was a time for Methodists to gather in self-examination, reflection, and dedication, before renewing their covenant with God. Typically, the Covenant Service was observed on the Sunday nearest January 1, just as the Season of Epiphany began. I have no idea if John Wesley intended for the two moments to coincide. But, it makes sense to me. The Epiphany of what it means for God to take on human form and fully enter into our joys and sufferings, gains and losses, invites us all to examine and reflect upon our covenant with God, and how it is we intend to serve this God in a New Year. For just about forever, God's people have been renewing their covenants, their promises, with God. In the Old Testament, 2 Chronicles 34.29-33 "chronicles" such an event. Says the story, "The inhabitants of Jerusalem acted according to the covenant of God, the God of their ancestors." I am thinking with the assurance of Epiphany, we can do likewise: renew our covenant with God, as a New Year dawns, and so act accordingly. What promises might you make to God in this New Year? What are some ways, some actions, you intend to take, in your service to God and others in 2021?
READ:
2 Chronicles 34.29-33; Matthew 2.1-12
WATCH:

Asbury's Weekend Worship: https://www.visitasbury.org/worship/
Beginning Saturday, January 2 at 5:00 pm
"May the covenant I make on earth be ratified in heaven."