Friendship: A Bible Study for Asbury's Worship




(July 18)



by Rev. Lee Johnson

july 18, 2021
READY
: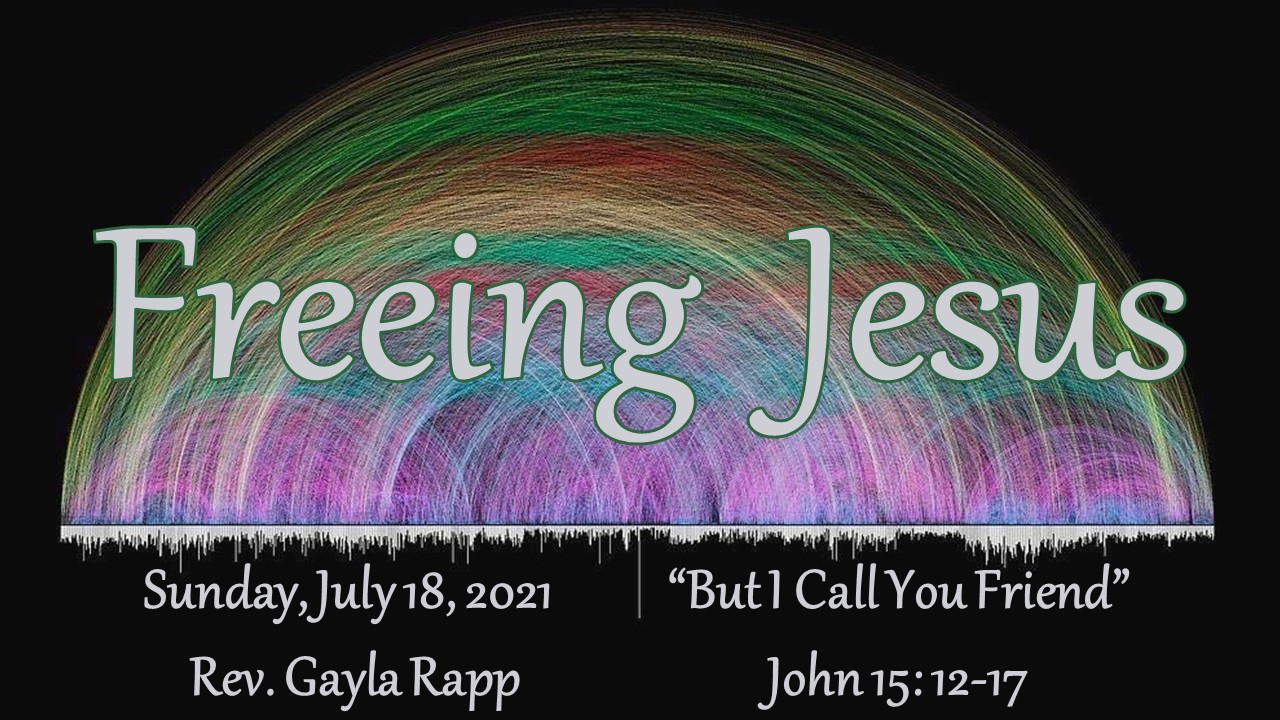 This weekend in worship, we begin a new series of sermons which in part reflect upon the latest published work of Diana Butler Bass. The author, who holds a doctorate in religious studies from Duke University, has authored more than 10 books reflecting upon religion in America. In her most recent book, Freeing Jesus, Bass shares how her connection with Jesus has changed over the years, sometimes connected to Jesus as a friend, sometimes Jesus as teacher, savior, Lord, way, and sometimes connected to Jesus as presence. The completeness of Jesus' expressions, all reflected upon in scripture, has helped Bass renew her hope in Jesus, and so live more fully in a Christian church whose believers are too often in conflict with each other. She hopes Freeing Jesus will help others do the same. As for this week – it's Jesus As Friend. To get started, reflect upon the scripture, John 15.12-17. The Gospel writer places this story on the night before Jesus' death. The evening has given Jesus an opportunity to remind the disciples, one last time, of what they need to be reminded. John 15.12-17 contains the reminder of Friendship. Read the scripture several times. Reflect upon what Jesus says to the disciples. In the construct of Jesus, what does the scripture reveal friendship to mean?

SET:
In her book, Diana Butler Bass reflects upon some of the "hymns" she learned as a child. It was through these hymns she was first introduced to the possibility that Jesus wanted to be her friend. As a child, I remember one of my favorite church hymns was "Jesus Is All the World to Me." I liked it for several reasons. First, I thought it was fun to hear played on the organ. Later I discovered, instead of playing it more slowly as it was written, my home church organist played it with, what shall I say, "pep." Each Sunday, I would look in the church bulletin, always hoping I'd find it amongst the hymns we were to sing that day. Second, I liked the hymn because of the words, "Jesus is all the world to me, I want no better friend. I'll trust him now, I'll trust him when." As a child, seeking to make friendships, the hymn reminded me I already had a good friend in Jesus. Maybe that's why our church organist played it with pep. Friendship with Jesus brings joy, not some slow-sounding drudge. Ponder now your understanding of Jesus as friend. Did anyone, or anything, introduce to you the possibility that Jesus wanted to be your friend? Maybe a church hymn? Diana Butler Bass remembers a Sunday School teacher who took time to teach them to sing: "Jesus Love the Little Children," and "Jesus Loves Me." As a child, both hymns became metaphors for friendship to Diana Butler Bass. Are there any hymns you remember that taught you an understanding of Jesus as friend?

GO:
Throughout scripture, Old and New Testament, an understanding of friendship with the divine is taught. In Exodus 33.11, God speaks to Moses as a friend. In Isaiah 41.8, looking back, God refers to Abraham as "my friend." Says Bass, "Friendship with God is not a biblical side story, rather it is central to the promises and faithfulness of being called a people of God." So, it should not catch us by surprise that on the night before his earthly death, Jesus solidifies his relationship with the disciples by calling them friends. He then instructs the disciples to do the same before sending them out to teach this kind of friendship to the world. As for the friendship Jesus teaches about, it is to be rooted in love. "By this everyone will know that you are my disciples, if you have love for one another." Set aside your understanding of romantic love. What kind of love does Jesus have in mind? How is this kind of love to be on display in our friendships with God and Jesus, and each other?

READ:
Read John 15:11-17
WATCH:

Asbury's Weekend Worship: https://www.visitasbury.org/worship/
Beginning Sunday, July 18 at 11 a.m. for Live Stream or 5 p.m. for recording.
Jesus is my friend to whom I go.