Godspell - "Beautiful City" - A Bible Study for Asbury's Worship
(January 9 & 10)

by Rev. Lee Johnson

january 9, 2021
READY
: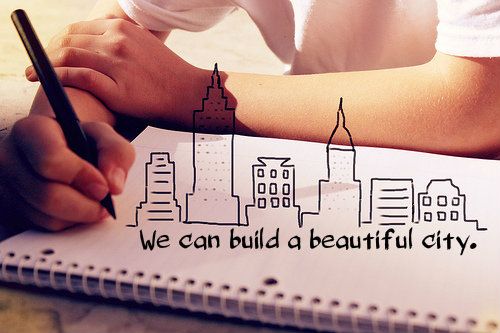 "Beautiful City" is perhaps my favorite musical score from Godspell. Interestingly, it was not included in the musical's first Broadway run in 1971. Instead, the song was written for the film version of Godspell, released two years later. When the musical reappeared on Broadway in 2011, "Beautiful City" was inserted, sung by the character playing Jesus, just before the events of Holy Week. Both the melody and the lyrics evoke much feeling:
Out of the ruins and rubble
Out of the smoke
Out of our night of struggle
Can we see a ray of hope?
One pale thin ray reaching for the day
We can build a beautiful city
Yes, we can, yes, we can
We can build a beautiful city
Not a city of angels
But we can build a city of (men)
SET:
I've thought of "Beautiful City" this past week. Our country is in a tempest. It doesn't get more stormy than an angry mob of American's seeking to destroy their own Capitol, a building that previously had withstood Civil War, the unrest of the 60's, and the 70's. Violence like this past Wednesday, violence like many have perpetuated on others this past year in our country, had no place in the world of Jesus. And, so, in the musical, just before his earthly life ends in violence, Jesus sings, "Beautiful City." "Out of the ruins and rubble, we can build a beautiful city, yes we can." This past week, as the mob stormed the Capitol, Wednesday also marked the Day of Epiphany, a Christian celebration of Jesus' manifestation to the world, the day "wise men" arrive bearing gifts. For a world living in darkness, despair, grief, and anxiousness, Jesus came to manifest light, hope, comfort, and assurance, gifts the world needed then, and still needs today, gifts that lay the foundation for a "Beautiful City." What do you think keeps us from building a "Beautiful City," the one Jesus has in mind? What would need to change in others, and in you, for the city to be built?
GO:
In Matthew 5, towards the beginning of Jesus' "Sermon on the Mount," what some call his Inauguration Address, Jesus encourages his listeners to become "the salt of the earth." Jesus knew, in part, the earth, touched by the violence of its day, had lost its taste. Says Jesus, "I need your help to restore it." He urges followers into action. "This is no time to hide your light. It needs to shine." That's an Inauguration Address we need to hear. The light of hope and comfort and assurance needs to shine on the darkness, then and now. And, now is not the time to hide the light we know in Jesus. Now is the time to become doers of the light of Christ, while still seeking comfort in it. Yes we can, yes we can, build a beautiful city. What might you do different this coming week in order to shine the light of Christ into your part of the world?
READ:
Matthew 5:13-16
LISTEN:

"We Can Build a Beautiful City"
https://www.youtube.com/watch?v=So2xalXA4Cw

WATCH:

Asbury's Weekend Worship: https://www.visitasbury.org/worship/
Beginning Saturday, January 9 at 5:00 pm

"We can build a beautiful city."