Jesus as Teacher: A Bible Study for Asbury's Worship
(July 25)

by Rev. Lee Johnson

july 25, 2021
READY
: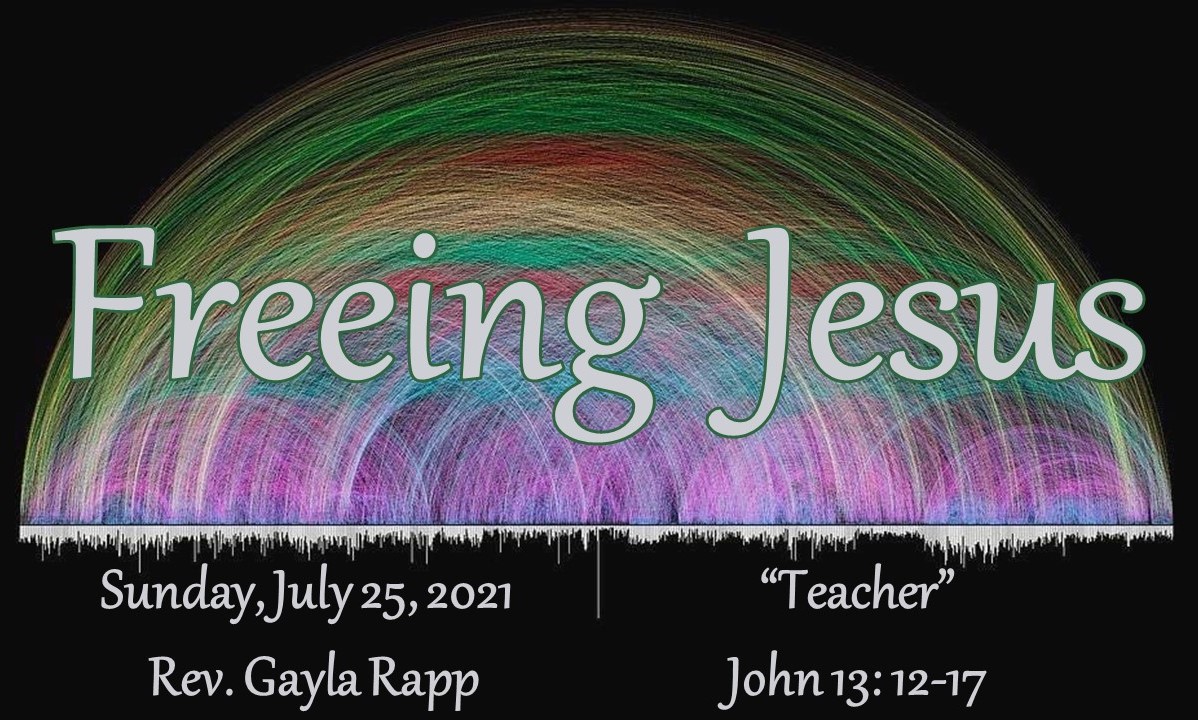 Both my parents were teachers. My mother, for many years, taught kindergarten and later, second grade. For the last 15 years of her career, she was an elementary administrator. My dad taught American history and was the boys' basketball coach at the same high school for 32 years. Later, before going to seminary, I taught English and journalism, at the same school where my dad was teaching and coaching. You might say teaching runs thick in my family blood for my brother, too, who spent time teaching English and coaching on the high school level. In fact, to honor my parents' many years of teaching in the Lincoln (NE) Public Schools, we've established a "Johnson Family Scholarship," awarded yearly to a "promising" graduate of Lincoln High School. I remember in college, when studying to become a teacher, I enrolled in a "teaching methods" class – that's where prospective teachers study the "methodology" of teaching. When it came to studying how to teach, my professor would remind us, "You might know everything there is about the subject you are teaching, but if you teach it without a 'sense' of warmth, you might as well not teach." I've often thought about the correlation between teacher warmth and teacher effectiveness. I bring this up because this Bible Study focuses on an understanding of "Jesus as Teacher."
Think about your favorite teachers. What made them your favorite? Did you experience a connection between "warmth" and their effectiveness as a teacher? Now, when you think about "Jesus as Teacher," what images come to mind? Is "warmth" in the mix?

SET:
In her book, Freeing Jesus, Diana Butler Bass writes, "those who knew Jesus best called him teacher." In the New Testament, Bass points out, more than 90 times Jesus is referred to as teacher – or another title very similar. Jesus was always teaching, even from an early age, when as a 12-year-old, his parents found him teaching in the Temple (Luke 2.41-50). So, what was he teaching? What was his curriculum? Undoubtedly, Matthew 5-7, "The Sermon on the Mount," gets to the heart of his teaching. Says Matthew 5.1, "When Jesus saw the crowds, he went up to the mountain; and after he sat down, he taught them." What followed was a series of "sayings" and "stories" that culminated in one final lesson note, the "Golden Rule" – "do to others as you would have them do to you." That day, the crowd was astounded at his teaching "for he taught them as one having authority." I wonder if that meant he taught with a "sense of teacher warmth?" Take a quick look at Matthew 5-7 – the Sermon on the Mount. Note some of Jesus' teaching subjects. What in particular stands out to you? What does it mean to "teach with authority?"

GO:
The night before his death, Jesus finds time for a last lesson. The Gospel of John records the lesson as Jesus washes his disciples' feet. It's a lesson by example. Good teachers do that, hold up their own conduct as an example for others. Could be that's why I wanted to become a teacher. I grew up around a bunch of them! I remember when I was learning to write "cursive" in third grade, I would follow the example of the teacher as she wrote on the board. Only problem was the teacher was right-handed and I was left-handed. It could get a bit confusing, but I persisted. That night, Jesus takes his teaching a step further, he makes the connection: "for I have set you an example that you also should do as I have done to you." Read John 13.12-17. What is the lesson Jesus teaches? Is it more powerful that he first models an example? Can you think of other moments in the Gospels where Jesus models an example as he teaches?

READ:
John 13:12-17
WATCH:

Asbury's Weekend Worship: https://www.visitasbury.org/worship/
Beginning Sunday, July 25 at 11:00 am for Live-Stream, or 5:00 pm for Recorded Worship

Teach me, Jesus, your ways.