Thanksgiving in All Circumstances -
A Bible Study for Asbury's Worship (July 10)

by Rev. Lee Johnson
July 10, 2022

READY
: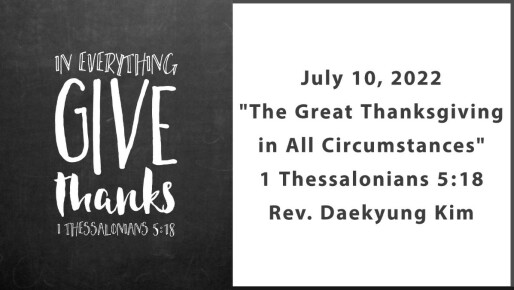 Most biblical scholars / historians consider 1 Thessalonians to be the very first epistle / letter written by Paul who himself visited Thessalonica sometime during his second missionary journey. An important coastal city in Greece, Paul traveled there to help establish and grow the early Christian church. It was not an easy task as Paul and his loyalists were subject to persecution and punishment from Roman leaders and Jewish authorities who both felt threatened by the Christian church. Acts 17.1-10 records the difficulties faced by Paul, and Silas, who traveled with him, while in Thessalonica: "The Jews became jealous and with the help of ruffians in the marketplaces they formed a mob and set the city in an uproar." As the mob searched for Paul and Silas, the two were eventually able to safely escape the city. In writing his letter to the Thessalonians, Paul references the mob attack and his desire to return but, says Paul, "Satan blocked our way." Paul's letter, written in and sent from Corinth, around the year 51, would have to suffice in place of his return. Aware that the fledging church faced similar tension from the Roman authorities and Jewish leaders, Paul's letter is full of gratitude for those who persisted under difficult circumstances. He also offered up words of encouragement. His closing words in Chapter 5 summarize well the emphasis of his letter: "Rejoice always, pray without ceasing, give thanks in all circumstances." Paul's summarizing thoughts are quite challenging, especially considering the difficulties faced by those working to build the church. Have you ever encountered a time that tested your capacity to rejoice, pray, and give thanks?


SET
:
I remember well, years ago, leading a monthly worship service for the residents at the then Indian Creek Nursing Center in Overland Park. It was a November service, and fellow church members accompanied me to lead music and offer encouragement to the residents. There were around 50 in attendance. Because of the time of year, we had selected "thanksgiving" as a worship theme. The theme was reflected in the music, prayers, and scripture from, you guessed it, 1 Thessalonians 5.16-18. After someone read the scripture, I begin the "sermon" by asking residents to name something for which they were thankful. I recall there were many quick replies with family, friends, and nature filling the list. One resident, sitting in a wheelchair, had not responded. Concerned she might not hear well, I walked near her and repeated my question. Her reply was also quick, and to the point, "Not a damn thing," she said. Yes, life can present itself in a manner that challenges our thankfulness.

GO:

Why do you suppose it was important for Paul to encourage the Thessalonians to give thanks to God in all circumstances? In part, Paul uses the letter to remind the Thessalonians how their Christian beliefs are to set them apart from others, or as Paul writes, "How you ought to live and please God." Apparently, the ability to give thanks is a defining mark of what Paul thought it meant to be a Christian. But, in all circumstances? This is where it would be helpful to have a conversation with Paul. Long-time Asbury member Libby Schoeni selected this scripture from 1 Thessalonians for the "July Sermon Series" that is focusing on "difficult" scriptures. Libby will share some of her thoughts about the scripture and reflect upon her current state of thankfulness. In all circumstances? Note, what Paul does not say, "for all circumstances." When it comes to thanksgiving, is there a difference between all and for?

READ:
1 Thessalonians 5.16-18
WATCH:

Asbury's Weekend Worship: https://www.visitasbury.org/worship
Beginning Sunday at 11 am for Live Stream or 5 pm for recording.

"And in all things, give God thanks."