The Law of Love: A Bible Study for Asbury's Worship




(July 17)



by Rev. Lee Johnson
July 17, 2022

READY
: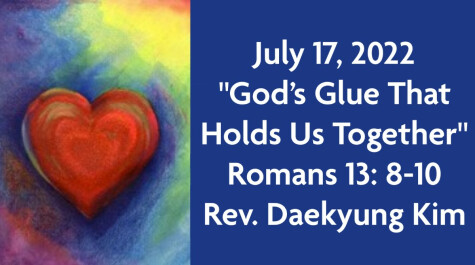 I have some friends who recently moved to Texas, having just retired from a lengthy career serving The United Methodist Church in the Oklahoma Annual Conference. (And by the way, that's what married couples do, like it or not, they serve together!) For their first Sunday away from professional ministry, they went to Wal-Mart. I'm kinda thinking that was a good way to celebrate a first Sunday in retirement, do what half the world does now on a Sunday morning, go to Wal-Mart! Last Sunday morning, though, they decided to begin the journey of looking for a new church home. They started with a close by United Methodist Church. For a sermon text that morning, the pastor chose selected verses from Deuteronomy 28. I call this chapter the "if/then" relationship with God, meaning "if you follow the laws of God" then good things will happen. But woe to those who stray. While it's not exactly light reading for a sermon text, Deuteronomy 28 served to help guide the Israelites who, led by Moses, journeyed nearer the Promised Land. It guided their behavior, toward each other, and kept them in relationship with God. Only problem, just about everyone strayed! There was a lot of woe going on in with Moses' traveling companions. Last Sunday, my "new" Texas friends tell me the preaching pastor used Deuteronomy 28 as a metaphor for the divide in The United Methodist Church.
Take a moment to read Deuteronomy 28. Work your way through, at least, the first 19 verses. It gives a picture into the "if/then" nature of the Israelites' journey with themselves and God. What might be the plusses for coming into relationship with God and others in this manner? Is there a downside?

SET:
Paul, writing in Romans, makes it pretty clear, salvation is manifested by our faith in the grace of God as displayed in the life and death of Jesus, not through a fulfillment of the law. To come into relationship with God and each other only through the law is a difficult task, or as Paul notes in Romans 7.19, "For I do not do the good I want, but the evil I do not want is what I do." Our inner self is at conflict with the law, especially when it comes to understanding the law through a Deuteronomic "if/then" lens. No one stands a chance. Yet, Paul is unwilling to set the law completely aside, remember your plus list from above, there is some benefit to the law. So, to the law, Paul adds a new one, "Love your neighbor as yourself." Paul believes Christian love, rooted in Christ, does no wrong to a neighbor. Thus, he says, "love is the fulfillment of the law." Want to form a closer relationship with God and others? Then, love your neighbor. Such love is the new law. What are the plusses here? What is the downside?

GO:
So, what's at the heart of the conflict in The United Methodist Church? Some say you need to look no further than Deuteronomy 28 to understand the conflict. Like the Israelites in the wilderness, too many of "us" have strayed from doctrinal standards, meaning the law of the church. Recently, a bishop, also from Texas, announced his early retirement, having grown tired of those who "abuse" the doctrine of the church. I find it amazing the same tension over the law, a tension that gripped believers more than 3,000 years ago, still grips us today. The "if/then" nature of our relationship with God, and each other, is alive and well. I am not sure that's good. Paul, though, steps into the middle of the tension and offers a "new" way of fulfilling the law, love of neighbor. This kind of love does no wrong. What do you think of Paul's advice, "love your neighbor?" How might following the law in this manner change the conflict, not only in the church, but in so many other places, too?
READ:
Deuteronomy 28; Romans 13.8-10
WATCH:

Asbury's Weekend Worship: https://www.visitasbury.org/worship/
Beginning Sunday at 11 a.m. for Live Stream or 5 p.m. for recording.
"Love does no wrong to a neighbor."