Reading Someone Else's Mail:
A Bible Study for Asbury's Worship
(July 3)

by Rev. Lee Johnson
July 3, 2022

READY
: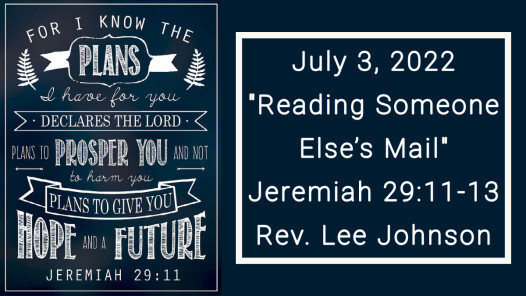 During the month of July, Asbury friends and members were asked to submit a verse or story from scripture they find particularly meaningful – whether it be a verse memorized as a child, or something experienced as troubling. The Bible can be that you know, troubling! Ten verses were submitted, five have been selected from which the Sunday worship experience will flow. First up this weekend is Jeremiah 29.11-13, although you may want to read Chapter 29 in its entirety. As a child, around age 14, God called Jeremiah to speak prophetic words of warning and comfort to the Southern Kingdom of Israel, many of whom were about to be exiled into Babylon. Jeremiah 29 is written as the exile begins in 597 BCE. Not everyone winds up in exile; the Babylonians allow some of the Israelites to remain home. But everyone's life is completely disrupted by the experience that separates family and friends from one another. In part, Jeremiah's job as a prophet was to help the Israelites understand their exile is a result of their failure to follow the laws and ways of God. Exile then is both judgment and punishment, its ways are harsh. Have you ever been forced to live away from "home," in a place not of your choosing? What was the experience like? What helped you manage the experience?


SET
:
When you read Jeremiah 29, the first few verses tell you the chapter is a letter, written by Jeremiah, and carried by royal emissaries from Israel to Babylon. The letter has a three-part message: 1) do not resist the exile, 2) carry on with your lives, 3) learn to come to terms with your situation. Jeremiah also instructs the exiled Israelites not to pray for the peace of their homeland, but to pray for the peace of Babylon, for in Babylon they will find their welfare. Peace will not be found in a return to normal. Instead, it will be experienced in the building of a new life while in exile. So Jeremiah writes, build homes, plant gardens, marry, and have a family. "For surely I know the plans I have for you, not for harm but to give you a future with hope." That future, writes Jeremiah, begins in exile. Jeremiah's letter reveals God is intimately involved in the Israelites' time in exile. In Exile, God can fashion new life.
When you have encountered times of change and disruption in your life, call it exile, how did you sense the presence of God? Did God seem distant and involved? Or did you sense God's whereabouts?

GO:

Fred Craddock was a professor of preaching at Chandler School of Theology in Atlanta, GA. When it came to preaching from Jeremiah, in particular chapter 29, Craddock taught his students the chapter is like reading someone else's mail. It's a letter composed by the prophet, written for and sent to someone else, the Israelites living in exile. Finding a relevancy of meaning in it for yourself, Craddock said, begins with the story of someone else. It is then you can better understand and acknowledge the intimacy of God who is with you in your time of "exile." Marilyn Kimmi, an Asbury member, requested Jeremiah 29.11-13. For much of the past decade, Marilyn has experienced the exile brought about by Parkinson's disease. Her life has been abruptly changed and altered. She wanted to know what meaning a letter written for someone else's exile might hold for her own exile. To learn more about Marilyn's story, and how an ancient letter speaks to her, and maybe even you, be sure to join us for worship this weekend at Asbury. Live stream begins at 10 a.m. on Sunday. See the link below. Or, join us in person!

READ:
Jeremiah 29

WATCH:

Asbury's Weekend Worship: https://www.visitasbury.org/worship
Beginning Sunday at 11 am for Live Stream or 5 pm for recording.

"I search for you, O God. Let me find you."