Predestined to God's Love:
A Bible Study for Asbury's Worship
(July 31)

by Rev. Lee Johnson
July 31, 2022

READY
: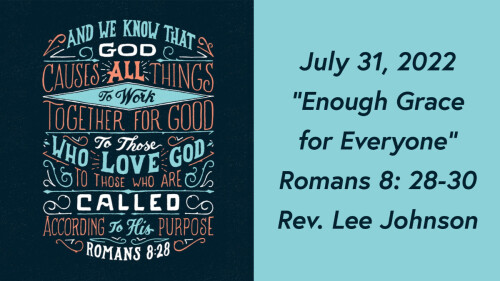 In July, Asbury friends / members selected Bible verses from which the Sunday worship theme emerged. This Sunday it's Romans 8.28-30, three verses from which the very first Methodist Schism also emerged. In 1732, John Wesley, Methodism's patriarchal founder, met George Whitefield when he came to Oxford England to begin college. Wesley, along with his brother Charles, had already formed Oxford's Methodist Society, a group dedicated to holiness of heart and good works. There was to be a "Method" to a relationship with God and one another. Study, worship, and accountability framed the society's "Method." Upon Whitefield's arrival, the Wesley's welcomed him into the society. And, three years later, left Whitefield in charge of the society when they sailed for the American Colonies. Returning home in early 1738, Whitefield, due to his accomplished oratory, had attracted a growing following, not just in Oxford but throughout England. Included in the following were self-identified Calvinistic Methodists who brought together John Calvin's understanding of predestination, the belief God preselects some people for eternal heaven and others for eternal damnation, and John Wesley's understanding of holiness of heart and good works. Wesley was resistant to this theological combination believing it cut against God's nature to send some people to heaven and others to hell, not to mention "why work to be holy" if your future is predetermined. Wesley was steadfast, God's grace was intended for everyone, not just a select few. Read Romans 8.28-30. How do you understand these verses that helped form the first Methodist Schism?

SET:
The Wesleys and Whitefield began a sermon, pamphlet war – a modern day Twitter War in which diverse opinions get argued in 280 characters. Of course the Wesleys and Whitefield had an expanded character limit. Each side published pamphlets and circulated them amongst their constituencies. Whitfield, upon being invited to preach in Wesleys' headquarters at the London Foundry, scandalized the congregation, preaching the Doctrine of Predestination. Afterwards, he sat by Charles Wesley. The sermon was Whitefield's response to a one previously preached by John Wesley in 1739, "Free Grace." Wesley preached the sermon with great unease, for Whitefield had been a friend. It was only after seeking a sign from God and drawing lots twice, did Wesley preach and publish the sermon. For his sermon, Wesley expanded the Roman's text to include verse 32: "He who did not withhold his own Son, but gave him up for all of us, will he not with him also give us everything else?" Wesley was taken by the word all. What difference does one word make? When it comes to God's gift of salvation, does all mean all?

GO:
While both "sides" inserted scripture into their arguments, John Wesley also used "reason" to make his point. Not only did he believe it was unreasonable for God to send some to heaven and others to hell, Wesley reasoned such decision making led to antinomianism, living without any concern for the law of God. Reasoned Wesley, "If salvation is unconditionally established by eternal decree, why would anyone concern themselves with obedience and discipleship?" God's grace, while resistible, was intended for everyone. In fact, Wesley thought God's grace preceded belief, inviting everyone into relationship with God. What do you think of the role of "reason" in the debate? Our current Methodist Schism over human sexuality also is being adjudicated by scripture. Is there a place for reason?

READ:
Romans 8:28-30, 32

WATCH:
Asbury's Weekend Worship: https://www.visitasbury.org/worship/
Beginning Sunday at 11:00 am for Live-Stream or 5:00 pm for Recorded Worship

From Psalm 139: 17-18...
"How vast is the sum of days. I come to the end, I am still with you."