"Les Miserables" and Bread: A Bible Study for Asbury's Worship
(January 23 & 24)

by Rev. Lee Johnson

january 23, 2021
READY
: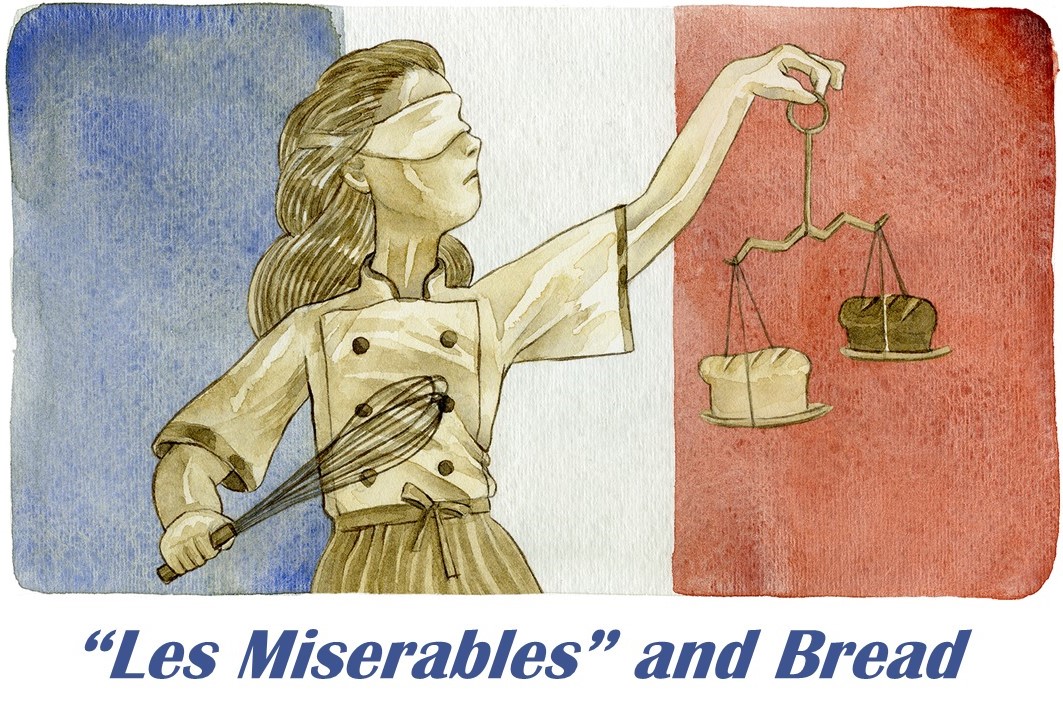 It took Victor Hugo nearly 30 years to write "Les Miserables." Originally, the story centered on Fantine, a poor woman forced into prostitution. But, on a cold winter day in February 1846, the French writer, on his way to work, witnessed something that altered the course of his novel. It seems a thin young man, with a loaf of bread under his arm, was being led away by the police. Arrested for stealing a single loaf of bread, Hugo remembers the young man was dressed in mud-splattered clothes, his bare feet thrust into clogs, and his ankles wrapped in bloodied rags. "It made me think," wrote Hugo, "the man was no longer a man in my eyes but the specter of the miserableness of poverty." With that, "Les Miserables" was re-cast. Jean Valjean, an out-of-work peasant who steals a loaf of bread in order to feed not just himself but his sister and her seven children, becomes Hugo's main protagonist. Interestingly, during the time it took Hugo to write the 800 some page novel, he left the Catholic Church. Having been born into the Catholic tradition, Hugo left the church because, as he said, "it had become disconnected to the plight of the poor." He declared himself a "religious free thinker." The novel, though, is deeply religious, spiritual in nature. Have you ever turned your eye away from the needs of the poor? What can lead us to become disconnected to the needs of others?

SET:
An entire novel, and one of the 20th century's most successful Broadway productions, is predicated on a single loaf of bread. I find that amazing. Well, maybe not when you consider the significance bread holds in our lives. In scripture, bread is mentioned nearly 500 times. Its significance is found in both the Old and New Testaments. 1 Kings 17 contains one of those significant stories. The Widow of Zarephath is gathering sticks to build a fire so she might bake one final loaf of bread for her family. Only a small amount of flour and oil remain. That's when Elijah, the greatest Old Testament prophet, requests the widow first bake him a loaf of bread. The request seems disconnected from the widow's need. Yet, from the request, comes bread, and more bread, enough to feed Elijah, the widow, and her family. If you continue reading the story, past verse 16, you'll find Elijah resurrects the widow's dead son. It's the first story of resurrection in the Bible, and it all began with bread. Why do you think bread, or at least the metaphor of bread, holds such significance in our lives? Have you ever received a loaf of bread as a gift? If so, what did it mean to you?
GO:
In John 6, having turned five loaves of barley bread and two fish into enough food to feed a crowd of 5,000, the following day the crowd comes looking for more. That's when Jesus claims the identity of "living bread," the kind of bread that will not leave you hungry. Many in the crowd do not understand his claim. Instead, they begin arguing about - you guessed it - bread. "How can you say you are the bread of life?" they ask. Given what you know about the significance of bread in "Les Miserables," in the Bible, and from your own experience, what do you say? In John 6, the crowd is looking for a "literal" explanation of Jesus and "living bread." How would you explain his claim to others? Ponder now, the storyline of bread in "Les Miserables." What might be its spiritual nature?
READ:
1 Kings 17:7-16 and John 6.
WATCH:

Asbury's Weekend Worship: https://www.visitasbury.org/worship/
Beginning Saturday, January 23 at 5:00 pm