For Anyone Who Misses Their Mother -
A Bible Study for May 8

by Rev. Lee Johnson
May 8, 2022

READY
: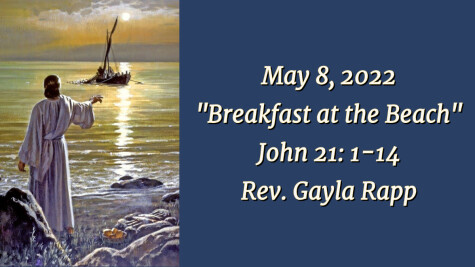 This seems like a pretty "stormy" Mother's Day weekend, even though the local Kansas City forecast is calling for a fairly decent Sunday. Russian aggression in Ukraine continues. Financial institutions titter in discomfort. And, as if that isn't enough, earlier this week someone leaked the news, a draft opinion indicates the Supreme Court is set to overturn "Roe v. Wade," which is 1973 ruled "restrictive state regulation of abortion is unconstitutional." State laws criminalizing abortion, the court ruled in January of 1973, in most cases, "Violated a woman's constitutional right to privacy." And, and lest we forget, our own United Methodist tradition is in the process of "splitting" over biblical authority and human sexuality. Some call homosexuality a sin. Many others understand human sexuality to be a gift from God. See what I mean? It's a bit stormy on the horizon. Yet, here we are, on the cusp of another Mother's Day Weekend where we celebrate family and the role of mothers. When the world seems a bit stormy to you, where do you turn? What voices do you listen to when storms arrive? Is there anyone out there who can speak both wisdom and comfort?


SET
:
Two years ago this month, my mother passed away. I last saw her on Mother's Day when I waved at her through the nursing home window in Lincoln NE. It was the Season of COVID, a bit confusing, stormy-like. I remember bringing her a plant and setting it outside the window. I'm uncertain she knew it was Mother's Day. On her best days, my mother offered me a source of both wisdom and comfort. That's why I especially miss her right now on this Mother's Day. How I'd love to hear what she'd have to say about the "storm" clouds on the horizon. My mother had a way of having an opinion. I remember in the 1970s, shortly after the 1973 Supreme Court decision, my mother began to support Planned Parenthood, eventually serving on its board. She never spoke loudly about it. Instead, her presence did the speaking. Still, I rather imagine she'd voice an opinion right now that would be both comforting and full of wisdom. I miss her. Imagine having a conversation with your mother about the events of this past week, and prior. What might she have to say to you?
GO
:


I was fortunate. Not everyone is raised by a caring mother. I realize that. My mother was a person of faith, but true to her personality, never demonstrative in it. She was in a UMW Circle. She faithfully served on church committees. Each Sunday, she would listen to three sermons, two on the radio, and one in person at church. Regularly, she would tell me about them. If the sermon was really good, she'd write a copy and then send it to me. When it came to human sexuality and the church, my dad struggled to be on the more progressive theological end. His struggle could be a source of pain for me. My mother was the bridge. She held both our hands. My mother attended church book clubs and Bible Study. She had a formative biblical verse, 1 John 4.7: "Beloved, let us love one another, because love is from God; everyone who loves is born of God and knows God." She insisted that be the only verse read at her Memorial Service. Trust me, we followed her wishes. Yes, I miss her. I'd like to know what she thinks of the United Methodist split. I'm certain her take would be connected to 1 John 4.7. "It takes a while," she would remind me, "for people to know the love of God. Keep showing them who you are." See what I mean? Wisdom and comfort for stormy days. Consider the words of 1 John 4.7. How might they speak to the storm clouds on the horizon?

READ:
1 John 4:7

WATCH:

Asbury's Weekend Worship: https://www.visitasbury.org/worship
Beginning Sunday at 11 am for Live Stream or 5 pm for recording.

Give thanks on this Mother's Day for those who share wisdom and comfort.