Anticipatory Thanksgiving:
A Bible Study for Asbury's Worship


(November 21)



by Rev. Lee Johnson

November 21, 2021
READY
: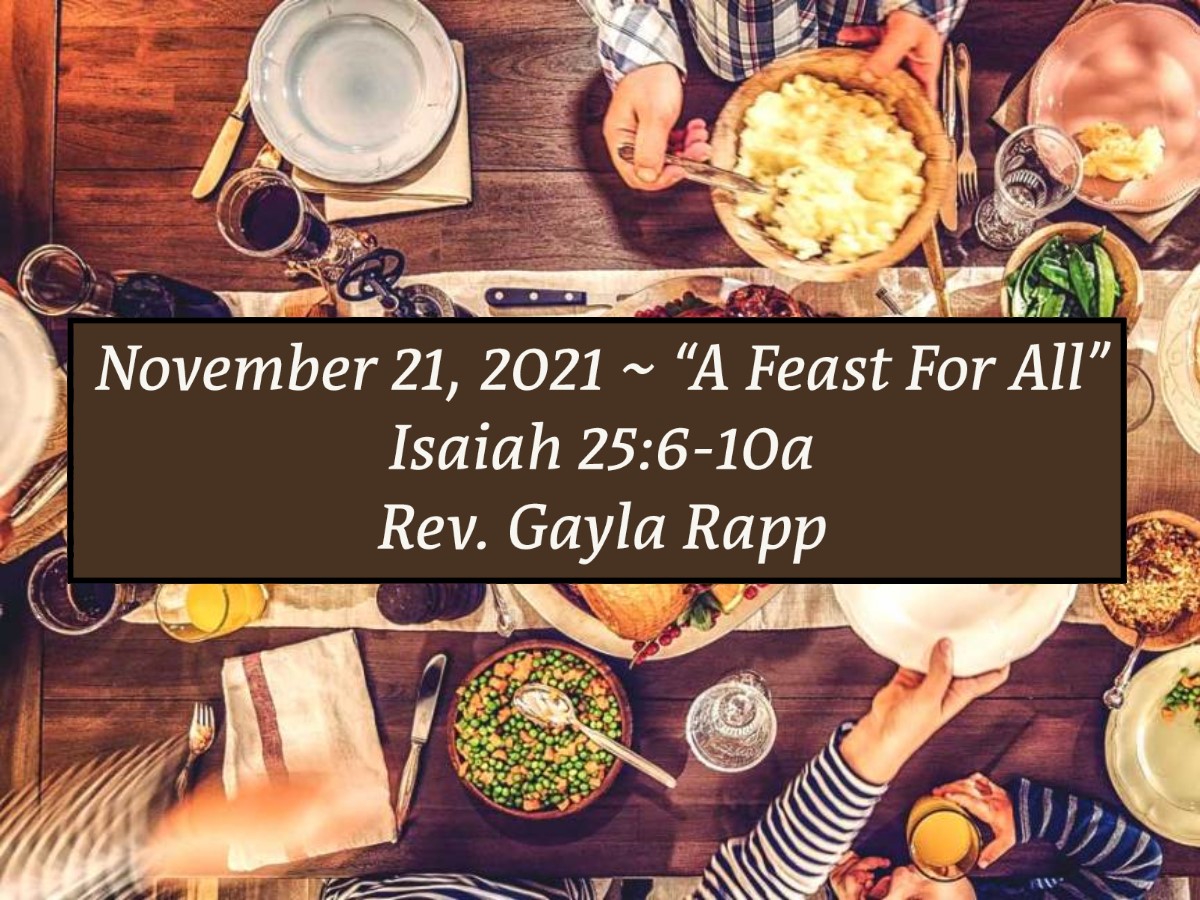 Writing in Isaiah 25.6-10a, the Old Testament prophet sends his words into a particularly hard and trying time in the history of Israel. It's 722 BCE, or after. Israel's northern kingdom has been defeated and captured by the Assyrian Empire. Many now face the reality of a harsh captivity, living their lives in exile. About the moment, Isaiah reports: "The country lies desolate. The cities have been burned with fire. Aliens and foreigners have devoured the homeland." (Isaiah 1.7-8) Yet, in Isaiah 25, the prophet anticipates a complete reversal of Israel's misfortune, one where Israel's people come to a feast of rich foods complete with well-aged wines. The destruction will end, death will be no more, and God will do what God does best, wipe away the tears. The disgrace of exile will vanish. About all of this, says Isaiah, "this is the moment we have waited for, let us be glad and rejoice in our salvation." But, you see, it's not yet, it's what will be. For, in the midst of their present reality, Isaiah calls the Israelites to anticipate a better moment, one of great joy and thanksgiving, even if the present reality is short on both. In the midst of their current reality, how difficult would it have been for the Israelites, while ensconced in exile, to anticipate a better moment - even rejoicing in the "salvation" that will someday come but is yet to be?

SET:
Our current reality of the past 18 months or so has been nothing short of difficult. COVID has sent us into an exile far away from the realities of an everyday life many of us took for granted. Now, as we figure out a new normal, supplies are in short supply, and much of what we can purchase costs a little more. The air remains charged with political and social disagreement. What once was is no longer. Yet, it is into a moment like the one we now know, Isaiah writes and tells the faithful to "anticipate" a feast of rich foods and well-aged wine. This week, such a feast will be upon us. Generally, it is a day to look back and give thanks for what has been, the past year. Yet, Isaiah points the Israelites forward in anticipation of what will yet be. It is the anticipation of what God will yet do in which the people of Israel are to find their thanksgiving. Take a moment and ponder the past year. What have been some of your better moments? Why? What has been particularly difficult? Think about next year. For what do you anticipate being thankful?
GO:
In the fall of 1863, President Abraham Lincoln proclaimed a National Day of Thanksgiving. The American Civil War was tearing the country apart, pitting family against family. The divisiveness of the day was strong, territorially divided, racially divided, economically divided. Nearly 850,000 Americans would perish. The country, disillusioned and sad, was in deep grief. Yet, the president called for thanksgiving – believing "thanksgiving can help heal the wounds" of a broken nation. Most of the wounds had yet to be healed in 1863, and many of them still remain, even today. In proclaiming thanksgiving, the President reminded the country of past blessings, including a "bountiful harvest." Yet, in anticipation of the healing that was yet to be, President Lincoln asked his country to be thankful. How might thankfulness help heal brokenness and grief? Take a moment and read the President's proclamation: Lincoln's 1863 Thanksgiving Proclamation – Education Updates (archives.gov)

READ:
Isaiah 25:6-10a

WATCH:

Asbury's Weekend Worship: https://www.visitasbury.org/worship/
Beginning Sunday at 11 a.m. for Live Stream or 5 p.m. for recording.
"Yesterday, today, and tomorrow, I am thankful, O God."