All Saints Sunday: A Bible Study for Asbury's Worship




(November 7)



by Rev. Lee Johnson

November 7, 2021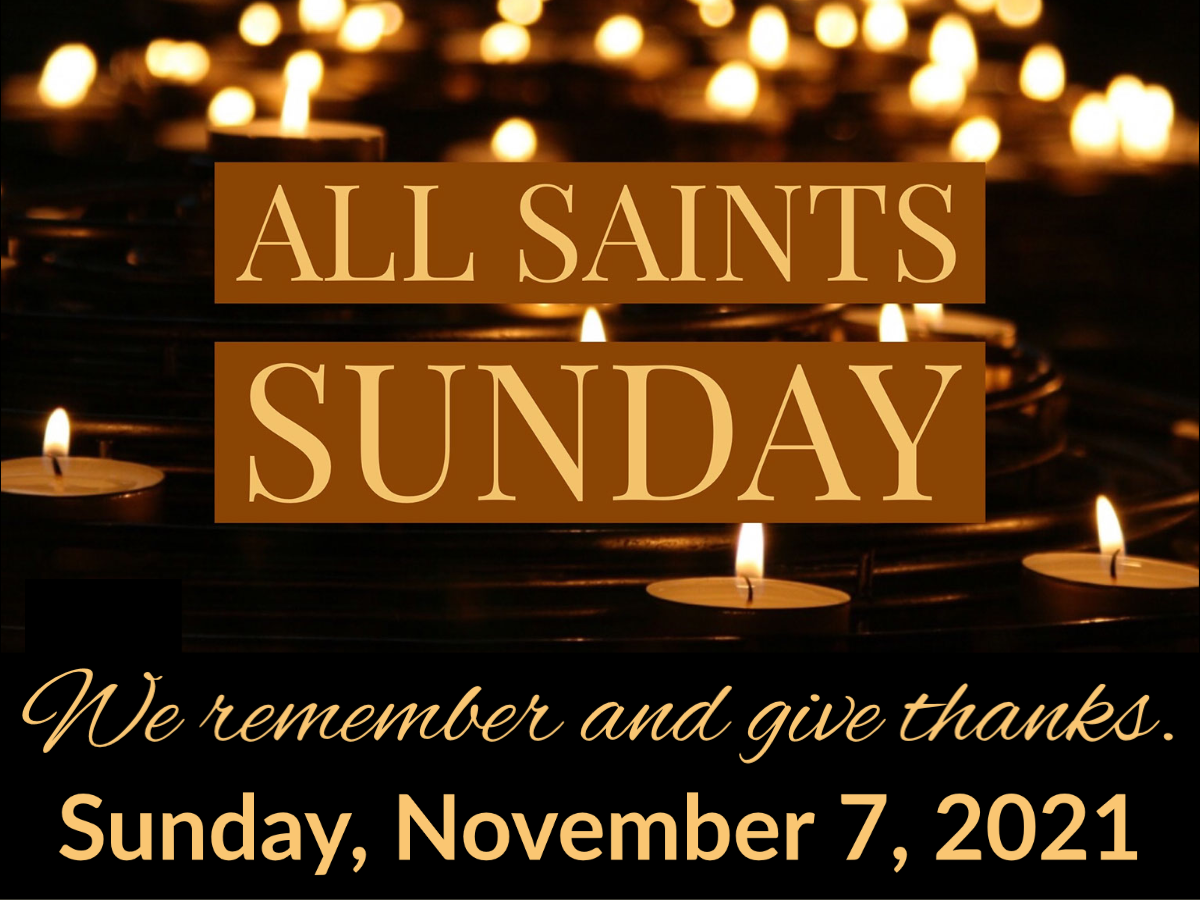 Earlier this fall, in October, I was mailed a very tattered-looking envelope addressed to me from my home church in Nebraska - Christ United Methodist Church in Lincoln. Not only was the envelope tattered, showing marks of wear and tear, but I also noticed the postmark date was, well, a little out of date - from nearly one year ago. "How can this be?" I thought. Obviously, the year delay accounted for the tattered look of the envelope. It had either been lost or misplaced before finally arriving at its proper destination, a full year later. Curiously, I opened the envelope and began to read a letter from the pastor. He was inviting me to an "All Saints Sunday" worship at my home church where my mother's name would be read and a candle lit. But, my mother had died in May of 2020. Traditionally, churches remember the lives of members who died in the year previous to All Saints Sunday, always the first Sunday of November. That means last year on November 1, my mother was remembered as a Saint in her home church. The letter was somewhat late. I smiled when I read the letter. "Good to know that," I said, "better late than never," when it comes to being a Saint.
Have you ever been to an All Saints Sunday worship in which the name of a family member, or close friend, was read and remembered? If so, can you recall the moment and your feelings? What's the significance of the church remembering the lives of those who have passed on since the last All Saints Sunday?


SET
:

This Sunday at Asbury, 15 names will be read to begin the service. That's the number of members who have died since November 1 of last year. For each name, a candle will be lit, and the "altar bell" rung loudly, to remember the member who passed on. In October, several weeks ago, I sent family members a letter telling them of the service and inviting them to either attend or watch on live stream. Let's hope my letter arrived on time! But if it didn't, a Saint is still a Saint, regardless of whether a letter arrives on time. And more importantly, a Saint remains a Saint in your heart regardless of the time that has passed since the death. That's the way it is for my mother, letter or not. Somewhere along life's way, someone helped me understand the "nature" of what makes for a Saint, telling me a Saint is anyone who has revealed the love of God to you. That means a Saint can be living or dead, for there are many living Saints in my life, all revealing the love of God. As for my mother, I always experienced a sense of "advocacy" from her, even when I was tough to love. Her "advocacy" lives on in my heart and on this year's All Saints Sunday, I give thanks. Do you have some "living Saints" in your life, people who reveal the love of God to you? Can you name them? What about those who have passed on? How might you give thanks for them this All Saints Sunday?

GO:
Take a moment this weekend to read Hebrews 11 and 12. From Abel to Abraham, from Moses to the prophets, the author remembers the deeds done by each person, all deeds and acts accomplished in faith. Then the author pauses and reminds us: "Since we are surrounded by so great a cloud of witnesses, let us lay aside every weight that clings to us." Oh my gosh, that was my mother. Her "advocacy of love" for me always took some weight off my shoulders. I am thankful the letter didn't arrive until this year. I needed that reminder. Is there a Saint in your life who took weight off your shoulders? That's love.
READ:
Hebrews 11 and 12

WATCH:

Asbury's Weekend Worship: https://www.visitasbury.org/worship/
Beginning Sunday, November 7 at 11 a.m. for Live Stream or 5 p.m. for recording.
"For all the Saints, I give thanks."