Palm Sunday: A Bible Study for Asbury's Worship
(March 27 & 28)

by Rev. Lee Johnson

march 27, 2021
READY
: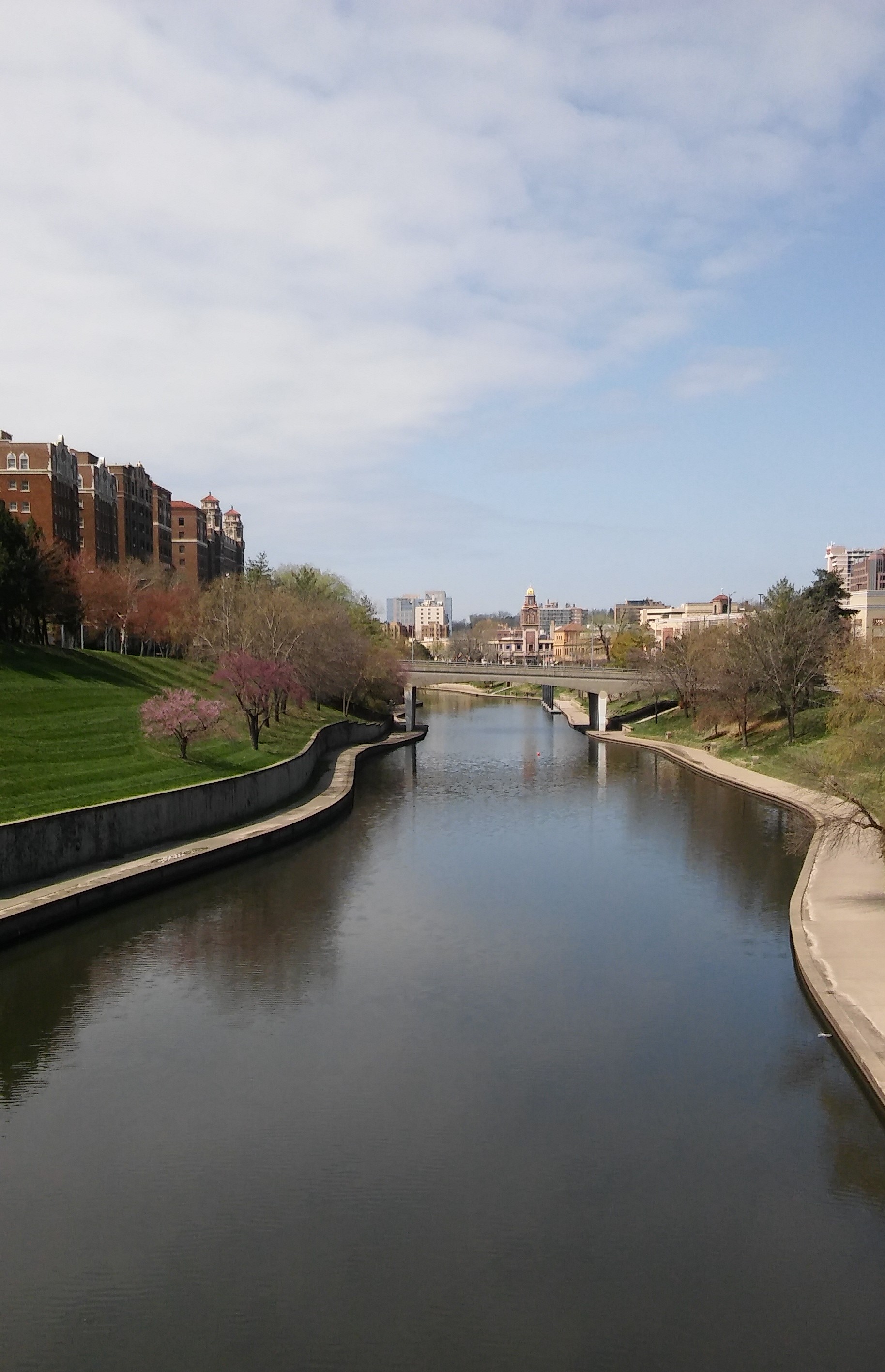 I recall well last year and Palm Sunday. Maybe you do, too. It was different than any other. The COVID 19 pandemic was getting revved up. Remember the phrase, "Shelter in place," catchy but painfully true. The streets were empty, except for a few scattered walkers on the sidewalks out to "see" the silence. That is what I did on Palm Sunday morning, 2020. I took a walk to see the silence for myself. I walked the mile "down" to the Plaza, counting the cars passing by. The normally busy Kansas City tourist spot was empty, a "ghost town" like feel. I looked for the Easter Rabbits who for years each spring have stood on Plaza corners saluting the season. Even they were inside, sheltering. As I left, I stood atop the bridge that crosses Brush Creek on the Plaza's east end and looked down, surveying the emptiness. Then, I took the picture you see here. I posted it to my Facebook page and titled it: "The Earth is Thinking." That's what it felt like. That's what it sounded like. Everyone was thinking in silence. Do you remember a year ago? What thoughts were on your mind? What were you thinking about?
SET:
On this weekend, I am mindful of the past year and all it has given us to ponder. More than 500,000 people in the United States have lost their lives to COVID-19, an increase of 100,000 since January 21. Over the year, tens of thousands have been forced to die alone, even my own mother. The total number of COVID-19 diagnosed cases in this country now exceeds 30 million. All numbers continue to tick up. One number can't tick-up fast enough: double doses. But wait – there's more: racial tension, political debates, the storming of the Capitol on January 6 by supporters of a defeated presidential candidate, a humanitarian crisis at our southern border, mass shootings. The road we've traveled has been a hard one. I know I would not have picked it, in fact, I'm not sure I know much about how best to travel hard roads. Maybe, that's why I am drawn to Matthew 7.7-14 in Jesus' Sermon on the Mount in Matthew. It helps us navigate those hard life paths. In the two concluding verses, Jesus points to the "narrow gate." Behind it, he says, is a "hard road," few people chose to travel. I can understand that now. Most prefer what's behind the "wide gate" where the road looks easy. "But only one road," says Jesus, "leads to life." And apparently, it's the one we've been traveling this past year. What about the past year has been especially "hard" for you? Did you do anything different to manage its hardness? What do you think Jesus means when he says, "The easy road leads to destruction?" What does he mean by, "The hard road leads to life?" What's the difference between the two roads?
GO:
You know the Palm Sunday story, right? Jesus enters the gates of Jerusalem where a large crowd greets him with what a premature "victory parade." Waving palms, branches of victory, even lining the street with palms, the people make it look like "easy street." Yet Jesus knew the look was deceiving. In reality, the wide gate was a narrow one. And the street was anything but easy. All told, for Jesus, it was a narrow gate that led down one hard street after another. Surely, he knew so when he made the choice to enter and walk down the street. Five days later, Jesus would travel yet another street, once again with a large crowd watching. This one would lead to the hard moment of death on a cross, brought about by the same crowd that welcomed him with palms on Sunday and berated him on Friday. For now, that's where the story has to end, lest we make it too easy and rush to the Easter gate. Instead, we are to do some searching and knocking, some additional thinking, calling upon the God who has already walked the hard paths we've known in this past year leaving behind exactly what we need to best walk the street, not stone but bread. Why do you think those in the crowd so quickly turned against Jesus? Would we rather have leaders take us down a hard street or an easy street? This week what gate do you plan to knock upon? What will you search for in your Holy Week conversations with God? What will you ask? What is the significance of God lining the street with bread?
READ:
Matthew 7:7-14
WATCH:

Asbury's Weekend Worship: https://www.visitasbury.org/worship/
Beginning Saturday, March 27 at 5:00 pm