The Day(s) After: A Bible Study for Asbury's Worship
(April 10 & 11)

by Rev. Lee Johnson

april 10, 2021
READY
: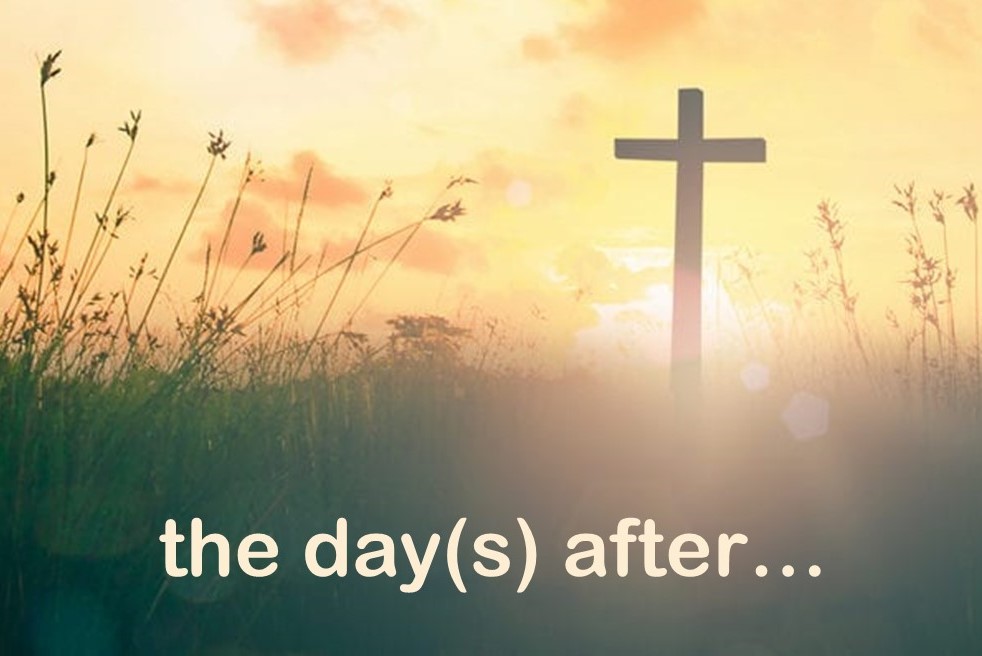 The Book of Acts, some believe, is a continuation of Luke's Gospel providing the only biblical account of the days following Easter. For 40 days, says Acts 1.1-5, the Risen Christ presented himself alive to disciples and believers, offering proof of his resurrection. He instructed followers to remain in Jerusalem waiting on God's promise, the Holy Spirit. On the 40th day following his resurrection, Acts records the ascension of Christ (Acts 1.6-11) into heaven. As the crowd gazed upward, just like Luke's Easter Story, two men in dazzling white (Luke 24.5-7) appear, reminding the crowd to look elsewhere. The comparison of the angels in Luke's Easter Story with the angels in Acts' Ascension Story is remarkably similar. In both accounts, God sends two angels to remind those observing the events "to look elsewhere." In other words, move on from the moment. Why did God send angels to tell observers to look elsewhere at an especially emotional time? Have your emotions ever kept you stuck in place for an extended period? Still, lest we forget, they are to remain in Jerusalem. How can you both look elsewhere and remain in place?
SET:
Following the Ascension, the disciples remain in Jerusalem but busy themselves selecting a replacement for Judas. Such is the work of staying put and moving on. On the 10th day following the Ascension, the promise arrives as the Holy Spirit descends (Acts 2.1-4). After some confusion, Peter explains (Acts 2.14-21) life is to go. Neither God nor Jesus have left the building, so to speak. Acts 2.37 captures the next phase of the journey: "What should we do now?" Peter says three things, "repent, be baptized, and believe." Then, let the Holy Spirit, the living presence of God and Jesus, inspire your ways. Acts 2.42 records how the Holy Spirit inspired the believers - "They devoted themselves to the apostles' teaching and fellowship, to the breaking of bread and prayers." In other words, they went on living. It seems the events of Easter are to inspire our lives and how it is we live them out. When faced with challenges in your life, how might the Easter event inspire you and the decisions you make?
GO:
But wait, there's more. The inspiration of Easter, and of the Holy Spirit, manifests itself in awe, or as the Acts story says in 2.43, "Awe came upon everyone." Soon all were sharing with each other and giving to anyone in need. They worshiped together in the Temple and ate with each other in homes. And, they did all this with "glad and generous hearts," less than 100 days after what appeared to be a tragic ending in death on a cross. Acts, then, invites us to ponder how it is we respond to Easter. What does Easter say to the sadness in your life over events that end in loss? How is it Easter results in an inspiration to give – gladly and generously? Does Easter leave you with a sense of awe?
PRAY:
Lord, the resurrection of Your Son has given us new life and renewed hope.
Help us to live as new people in pursuit of the will and way of Christ.
Grant us wisdom to know what we must do,
the will to want to do it, the courage to undertake it,
the perseverance to continue to do it, and the strength to complete it.
In Jesus' name, we pray. Amen.
READ:

Acts 1 and 2

WATCH:

Asbury's Weekend Worship: https://www.visitasbury.org/worship/
Beginning Saturday, April 10 at 5:00 pm
"May Easter make my heart glad and generous."