Trinity Sunday: A Bible Study for Asbury's Worship




(May 30)



by Rev. Lee Johnson

may 30, 2021
READY
: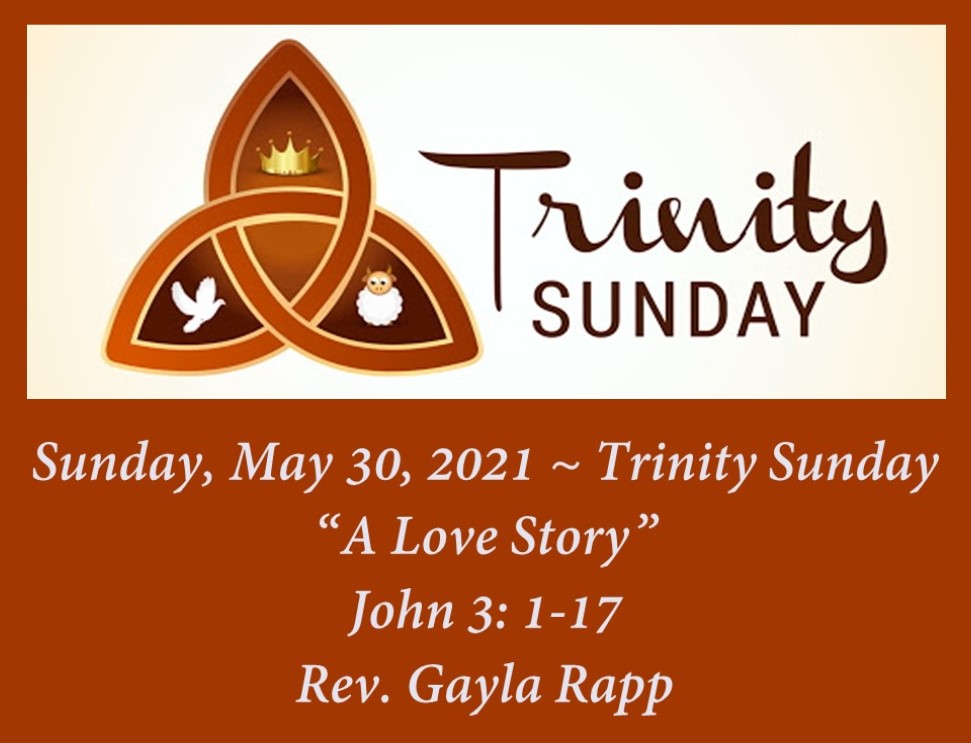 Remember Nicodemus? One night in John 3, he comes to Jesus wanting to "know" more. Jesus points him to the yet to be promised Spirit. That is how Jesus works, always pointing people somewhere. The Spirit, like wind, "blows where it will," says Jesus. "You must be born of the Spirit." Unable to fully know, a disappointed Nicodemus leaves the conversation. Later in John 19, Nicodemus reappears, this time anointing the body of Jesus as he is taken from the cross. Somewhere along the way, between John 3 and John 19, Nicodemus must have done some thinking about what Jesus said that night. Maybe he "knows" something now that he did not before in John 3. Or, maybe it was the Spirit who moved an "un-knowing" Nicodemus back to the side of Jesus? Begin this Bible Study by reading John 3.1-17. What questions does it raise in your mind? What more about the Spirit do you want to "know?"
SET:
Now take a moment and read some from the Old Testament - Ezekiel 1. The prophet Ezekiel finds himself by the River Chebar, a desolate looking place out in the middle of nowhere. Ezekiel is joined there by his fellow Israelites. They are on their way to a lengthy "exile" in Babylon. Psalm 137 captures the moment: "There by the rivers of Babylon – there we sat down and wept when we remembered Zion. On the willows there we hung up our harps. How could we sing the Lord's song in a foreign land?" What a hard moment of living. Then, suddenly, in Ezekiel 1, the prophet has a vision. Through fire and wind, a great cloud gathers as a chariot, with four wheels, emerges. The chariot, it seems, goes where it wants to go, moving one way, then another. Ezekiel identifies the presence of the Spirit in the chariot. "Wherever the Spirt would go, the wheels rose." Or, as Jesus told Nicodemus in John 3: "The Spirit, like wind, blows where it will." Surely, Nicodemus, a good and faithful Jew, knew the story of Ezekiel. Maybe between John 3 and John 19, Nicodemus put the two stories together and that's what brought him back to the side of Jesus. Read some from Ezekiel 1. To our ears it's a strange story. It, too, is a story about the Spirit that comes to the people of Israel in a rather dark moment of living. In fact, in Ezekiel it only becomes darker before the Spirit re-emerges in a "Valley of Dry Bones." The Spirit goes where it will go. What do think this means for you today?

GO:
The Christian Church names this Sunday as Trinity Sunday. It's a celebration of a God who makes God's self known in three ways: first as God, then as Jesus, and then as the Holy Spirit. Each way is a bit different, but each is a manifestation of the same God. Later in Ezekiel, it becomes clear the driver of the chariot that day was God. God, it seems, will go where God wants to go, even into the deep valley of hard living – in this case, by the River Chebar emerging as the Spirit. In Christ, Christians believe God walked into our lives, a living God who taught and healed. And, that is what Jesus is doing for Nicodemus in John 3 – teaching and healing, encouraging Nicodemus to remember the Spirit's presence who will come into his life no matter what. What do you think? Is it a good thing that the Spirit will go where it wants to go? What's this say about God? "For God so loved the world, that God will go where God needs to go to love the world!"

READ:
Read John 3.1-17
Read Ezekiel 1 and Psalm 137
WATCH:

Asbury's Weekend Worship: https://www.visitasbury.org/worship/
Beginning Sunday, May 30 at 11 a.m. for Live Stream or 5 p.m. for recording.
"Spirit of God, go where you want to go."