Worry and Wisdom: A Bible Study for Asbury's Worship
(March 20 & 21)

by Rev. Lee Johnson

march 20, 2021
READY
: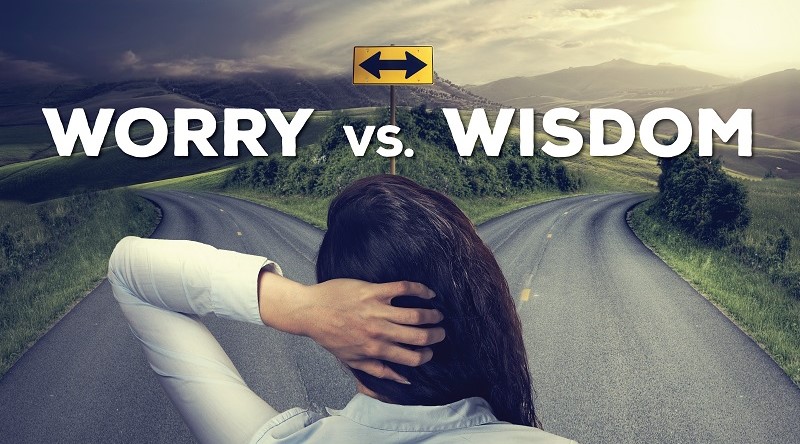 "Therefore I tell you do not worry," says Jesus in Matthew 6.25, in the Sermon on the Mount. That means before you ever consider his statement about worry, the reader needs to back up to the words prior to the "therefore," where Jesus tells the audience that divided loyalty will not cut it in God's world: "you cannot serve God and wealth." (See Matthew 6.24.b) And should you do serve both, Jesus clearly implies doing so will result in needless "worry." This simple "therefore" gives us lots think about. It's at this point, I am mindful of Jesus and his Jewish upbringing and heritage. As a Jew, Jesus was schooled in Torah law which clearly proclaimed: God comes first. Strive for that "firstness," says Jesus at the end of this section on worry. Seek first after a relationship with God. It's the seeking after "other things" that can cause the worry. "Therefore I tell you." Get it? But the events of life can so easily distract us from God. Take this past year, for example. Jobs, financial resources, health, and family all became a focus of attention because of COVID-19. Ask yourself, "Have the events of the past year distracted you from God?" Did you worry more? If so, Jesus reminds us – refocus on what really matters. What has been on your worry list this past year? Does it help, in any way, to "refocus your attention to God" as in, "Strive first for the Kingdom of God and his righteousness, and all these things will be given to you as well." (See Matthew 6.33)
SET:
Jesus draws upon his Jewish roots in another interesting way in this section on worry. It's easy to miss. But it's there before us: "even Solomon in all his glory." (See Matthew 6.29) Solomon was well-known for his ostentatious manner of living, which at times was reflected in his clothing. Have you ever worried about what to wear? "Refocus," says Jesus. Strive first for God who will clothe you better than "even Solomon." Yet, before we dismiss Solomon as a fashion showboat, we want to remember he was also known for something else – his great wisdom. Apparently, even flashy dressers hold redeemable qualities, and Solomon was known for his life wisdom. Interestingly, the author of Ecclesiastes from the Old Testament, a writing known for its wisdom, credits Solomon. Doing so lends the author credibility for the wisdom he, or she, shares. Maybe the most well-known part of Ecclesiastes comes from Ecclesiastes 3.1-8. You know that part – "for everything there is a season, and a time for every matter under heaven." What we learn there is that all time is held in God's hands. Even Solomon knew this. Why not mention the best? "Therefore, I tell you do not worry." God holds the time in God's hands. Seek after that God. It's as though the Sermon on the Mount's take on worry comes straight out of Solomon's wisdom. Surely, Jesus knew what he was talking about. Jesus draws upon his past experiences from his Jewish heritage to teach others about God and worry. What have your past experiences taught you about worry?
GO:
There is one more Old Testament story that Jesus surely knew and may have impacted his take on worry. It's the story of Ruth. Actually, it is the story of Naomi in the Book of Ruth. It seems a severe famine (worry) drives Naomi and her husband, and two sons, from their home in Bethlehem. The family is forced to journey to Moab where report has it, there is food. Once there, disaster befalls the family (more worry). Naomi's husband and two sons die of illness – but not before the sons marry Moabite women (lots of worry). Eventually, Naomi learns the famine has left Bethlehem and she is able to return home. Ruth journeys with her mother-in-law, meaning Naomi will have to explain to her friends how her son married outside of his faith tradition (big worry). As Naomi enters the town gate, she is almost unrecognizable. The year of worry had taken a toll. In fact, she tells everyone she has changed her name to Mara – which in Hebrew means bitter. Wow. Worry can do that! Leave us bitter. Therefore, says Jesus, refocus what worries you on God. Place it in God's hands. Don't you wish it was that easy? But, really, what do you think Jesus is trying to teach you in this passage about worry? It's full of wisdom.
READ:
Ecclesiastes 3:1-8 and Matthew 6:25-34
WATCH:

Asbury's Weekend Worship: https://www.visitasbury.org/worship/
Beginning Saturday, March 20 at 5:00 pm
"Therefore, do not worry."