POSTPONED UNTIL JULY:

Special Church and Society Zoom Presentation
Featuring Dr. Tyrone Michael Bates, Jr.
of the Shawnee Mission School District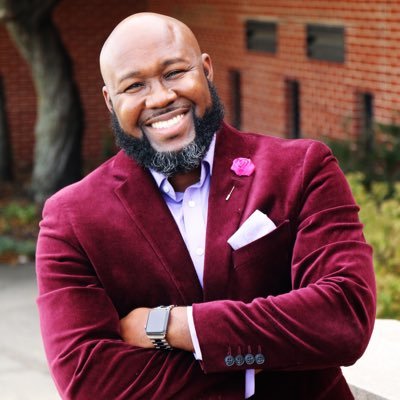 Hello everyone,
We regret to inform everyone that Dr. Tyrone Bates has experienced a family emergency and will need to postpone his presentation on Thursday evening to sometime in July.
If you have already registered for Thursday night's event, you will be the first to know when Church & Society solidifies a new date with Dr. Bates. You won't have to re-register for the new date! If for some reason you won't be able to make the new event date and no longer wish to receive updates, you can simply let our Director of Communications know at .
We will put a new registration form on this page once we hear word on a rescheduled date. Thanks for your interest in our Zoom presentations!
---

In July, Asbury's Church and Society welcomes Dr. Tyrone Michael Bates, Jr., Coordinator of Diversity, Equity, and Inclusion for the Shawnee Mission School District (SMSD). He will be speaking via Zoom about how the SMSD is working toward achieving diverse, equitable and inclusive communities in their schools.

Register for this special Zoom presentation by filling out the form at the bottom of the page. Zoom invitations will be sent out on the morning of the event. Any questions? Contact our Director of Communications, Sharlynn Verner, at .


About Dr. Bates:

Dr. Tyrone Michael Bates, Jr. is from Kansas City, Kansas by way of Chicago, Illinois. Tyrone is a 1996 graduate of Wyandotte High School and a 2002 graduate of Northwest Missouri State University, where he received a Bachelors of Science in Biology and a minor in chemistry, as well as his Educational Specialist Degree. He also holds a Masters of Science in Curriculum and Instruction from Pittsburgh State University, and earned his Educational Doctorate degree from the University of Missouri, Columbia in 2012.

Tyrone has received several honors and awards, including Who's Who Among American College and University students & teachers, the KCTF (Kansas City Teaching Fellows) outstanding teacher of the year, Kansas City Kansas Community College's "2007 Man of Excellence Award" for community and educational activism, and the Friends of Yates Center Black Man of the Year Award in 2009.

Tyrone taught biology and chemistry for four years at his Alma Mater, Wyandotte High School in Kansas City, KS; served two years as an Academic Coach with the Kauffman Scholars Program, seven years as an administrator with KCKPS, and has owned a consulting business (True Empowering, LLC) for the past 10 years, where he serves as President/CEO. He currently serves Shawnee Mission School District as the Coordinator of Diversity, Equity & Inclusion.

Tyrone is married to his wife of 20 years, LaJasmia (Jazzee), a Registered Nurse in the state of Kansas, and they share six beautiful children: La'Shana, Tyrone III, Tamar, Trinity, Tamia & Emmanuel.

Tyrone believes that "all things" require respect and honor, because of the God that dwells within them.