---
Need food? Our food pantry is open 24/7 inside the MSR entrance (see picture below).
We have fresh milk, eggs, produce, pasta, and other non-perishable items available.
There is no check-in, approval process, or people you need to contact in order to get food.
Just please come by and feel free to take what you need.
---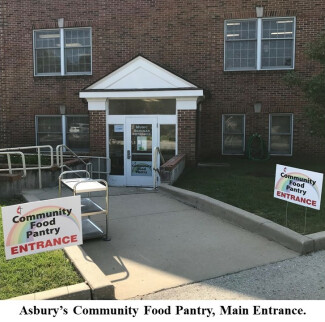 Earlier this spring, as the coronavirus pandemic took hold across the nation, Asbury recognized the community's need for help with feeding their families and keeping their homes clean and safe. So we started an outdoor food pantry ministry. What began as a couple shelves outside our front door with cans of food and some rolls of toilet paper has turned into a much-needed resource for struggling families in our community!
Our food pantry has moved since then - it is currently located just inside the MSR (Music Seminar) entrance. There are clearly marked signs that will point you where to go when you enter the Asbury parking lot. The inner door to the MSR will be locked, but the outer door will be open so we can keep food safe from the elements and allow people to pick up the items they need while keeping safe and dry from the ever-changing Kansas City weather.
We could always use a helping hand when it comes to keeping our food pantry stocked! Anything that you can donate helps. Some of the more specific needs include: pasta, pasta sauce, peanut butter, canned meat, canned fruit, canned vegetables other than corn or green beans, granola and/or cereal bars, toilet paper, paper towels, and any kind of personal care items.

In addition to non-perishable food items, our food pantry also includes butter, cheese, fresh produce, bread, and ice-cold bottled water. Although perishable foods are in high demand, please do not attempt to donate these items. We have found it to be easier to purchase perishable items as they are needed. This helps minimize any spoilage.
If you are donating food, you may simply leave your donation on the donation cart outside the MSR entrance. Monetary donations may be made by calling the church office at 913.432.5573, or online at
http://www.easytithe.com/visitasbury
. Under the drop down "Fund" box, simply choose "Other Fund," and then type in "Food Pantry" in the "Notes" box. A final option is to purchase an Asbury face mask for $5! All profits go straight to the Asbury Food Pantry. They are available in the church office - just reach out to Phyllis Williams to reserve yours at
!
If you have any questions or comments about the Asbury UMC Community Food Pantry - or if you would like to volunteer! - please let Steve Trenholm know. He welcomes anyone to reach out to him at
. Thank you, Asbury, for helping us help our neighbors! Your continued generosity with our food pantry ministry is incredibly appreciated.