A Bible Study and Prayer for Asbury's July 25-26 Worship
by Rev. Lee Johnson

july 26, 2020
READY
: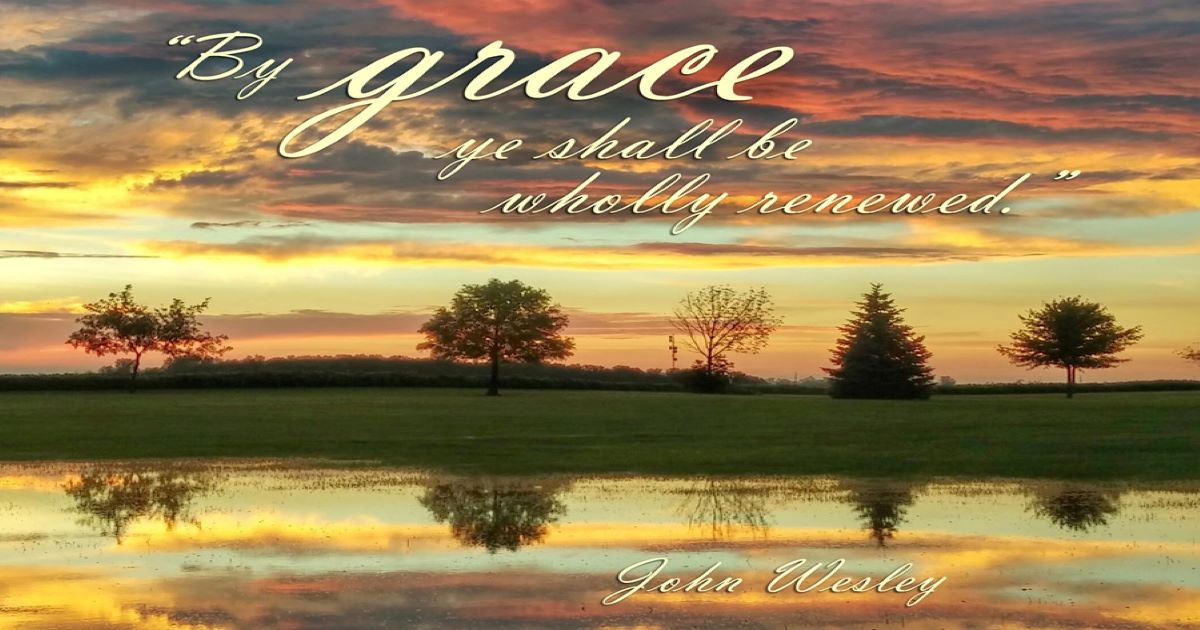 As the song says: Grace is amazing, God's love for us, poured out upon us, no matter what. "Freely, freely you have received." God's grace is to bring about change - change in our relationship with God, but also with each other and even ourselves. John Wesley, from whom United Methodists – and many others – trace their faith tradition, understood well the change grace was to bring about. At a low point in his life, not even anticipating the moment that was about to be, Wesley felt his heart "strangely warmed." Later, he identified the source of his warmed heart as a gift of God. The grace of God had been given to him, freely. From that day, for Wesley, nothing was the same. Wesley had an "encounter with God" he later identified as grace. Have you ever experienced, in retrospective thought, an encounter with God's grace?
SET:
When it came to grace, Wesley understood grace as a series of life-long experiences, intended to draw believers into ever-closer relationships with God. Eventually, Wesley believed, God's gift of grace could sanctify, or make holy, even the hardest of hearts. Imagine that? No wonder grace is called amazing. Grace, he thought, could bring about a complete and utter transformation that restores God's creation to its original beauty, a beauty that somehow becomes lost in the hard moments of life. Interestingly, Wesley's awareness of grace came at one of those hard moments. It seems our world is in one of those hard moments now. What might it be like if we prayed for the holy gift of God's transforming grace? That would be a very "Wesleyan" thing to do.
GO:
The Gospel of John begins with a powerful reminder: Jesus, God's living word, came into the world with a specific job description - to speak words of grace. And, not just any old grace, but grace upon grace, time after time. Previously, believers had experienced a relationship with God through "the law." Now, grace was being spoken into the law, grace upon grace, time after time. The Gospel of John calls this "the truth." In your life, who has spoken words of grace to you? Who has spoken the truth? Maybe it was a hopeful word at a particularly low point. Maybe it was a forgiving truth spoken at a time of failure. And, when have you spoken words of truth and grace to others?
STUDY:
Read John 1:14-18.

READ JOHN WESLEY'S PRAYER ON GRACE:
O God, seeing as there is in Christ Jesus
an infinite fullness of all that we can want or desire,
may we all receive from him grace upon grace;
grace to pardon our sins, and subdue our iniquities;
to justify our persons and to sanctify our souls;
and to complete that holy change, that renewal of our hearts,
which will enable us to be transformed.
Amen.
WATCH:

Asbury's Weekend Worship: https://www.visitasbury.org/worship/
Beginning Saturday, July 25 at 5:00 pm

Watch Chris Tomlin sing "Amazing Grace" at https://www.youtube.com/watch?v=Jbe7OruLk8I

"May God's grace transform my heart today."